Investing is one of the greatest methods to guarantee your financial future, and one of the greatest forms of investments over a long period of time. It may have been appealing in recent years to abandon a long-term strategy in favour of fast profits. However, given the market's present high valuations, it's more crucial than ever to concentrate on the best stocks for long-term investment while following your strategy.
Today's investors have a variety of options for investing their money, and they may pick the degree of risk they're ready to accept to reach their goals. You may go with a secure alternative like a certificate of deposit (CD), or you can increase the risk – and possible profit! – With investments like stocks, mutual funds or ETFs.
These are the few companies which we can categorise as the best stock for term investment.
| | | | | | |
| --- | --- | --- | --- | --- | --- |
| Sr No. | COMPANY NAME | NSE CODE | BSE CODE | | INDUSTRY |
| 1 | Caplin Point Labs | CAPLIPOINT | 524742 | | Pharmaceuticals |
| 2 | Marico | MARICO | 531642 | | Personal Products |
| 3 | Avanti Feeds | AVANTIFEED | 512573 | | Other Food Products |
| 4 | Tata Metaliks | TATAMETALI | 513434 | | Iron & Steel |
| 5 | HCL Technologies | HCLTECH | 532281 | | IT Consulting |
| 6 | Bajaj Auto | BAJAJAUTO | 532977 | | 2 & 3 Wheelers |
| 7 | KEI Industries | KEI | 517569 | | Electric Equipment and Products |
| 8 | Polycab India | POLYCAB | 542652 | | Electric Equipment and Products |
| 9 | Coromandel International | COROMANDEL | 506395 | | Fertilizers |
| 10 | Mphasis | MPHASIS | 526299 | | IT Consulting |
| 11 | KEC International | KEC | 532714 | | Heavy Electrical Equipment |
| 12 | Alembic Pharma | APLLTD | 533573 | | Pharmaceuticals |
| 13 | Indus Towers | INDUSTOWER | 534816 | | Telecom Services |
| 14 | Huhtamaki India | HUHTAMAKI | 509820 | | Containers & Packaging |
| 15 | Oracle Financial Services Software | OFSS | 532466 | | IT Consulting |
| 16 | ITC | ITC | 500875 | | Cigarettes & FMCG |
| 17 | Tata Elxsi | TATAELXSI | 500408 | | IT Software |
| 18 | Dixon Technologies | DIXON | 540699 | | Consumer Electronics |
| 19 | Hindustan Aeronautics | HAL | 541154 | | Aerospace |
| 20 | APL Apollo Tubes | APLAPOLLO | 533758 | | Iron & Steel |
 Note- These are mere suggestions and this website is not taking guaranteeing these stocks.
Few of the best stocks for long term investment
Caplin Point Labs
Caplin Point Labs is an example of a firm in the Indian medicine industry that manufactures and sells generic pharmaceutical items in both local and international markets. The pharmaceutical corporation today manufactures and distributes pharmaceuticals mostly to developed markets such as the United States, China, Europe, and other countries with significant populations. The company's API and formulation R&D would enable it to address multi-tier goods, including simple and complicated compounds, while also providing a competitive firewall that would keep a new entry of their magnitude out of the market for a long time. It has an R&D/sales ratio of 9%, which is greater than its peers.
Marico
An Indian multinational consumer goods company- Marico Limited, specialises in health, beauty, and wellness products and services. Marico has offices in over 25 countries across Asia and Africa, with its main office in Mumbai. It owns brands including Parachute, Saffola, Hair & Care, Parachute Advanced, Nihar Naturals, and Mediker in hair care, skin care, edible oils, health foods, and male grooming, and fabric care areas.
The firm has a revenue of 7,315 crores in the fiscal year 2019–2020. Pondicherry, Perundurai, Kanjikode, Jalgaon, Paldhi, Dehradun, Baddi, and Paonta Sahib are among Marico's eight Indian factories.
Also Read- NFT Stocks– Meaning and investment guide
HCL Technologies
HCL Technologies (Hindustan Computers Limited) is a Noida-based Indian multinational information technology (IT) services and consulting firm. It is an HCL Enterprise subsidiary. It began as an r&d. section of HCL before becoming a separate firm in 1991 when HCL joined the software solutions market. Over 187,000 people work for the corporation, which has operations in 50 countries.
Forbes' Global 2000 list includes HCL Technologies. With a market capitalization of $50 billion as of September 2021, it is among India's top 20 publicly listed firms. The corporation and its subsidiaries have a combined yearly profit of 71,265 crores (US$10 billion) as of July 2020.
Bajaj Auto
Bajaj Auto Limited, situated in Pune, is an automobile manufacturer. It is a motorbike, scooter, and auto-rickshaw manufacturer. The Bajaj Group includes Bajaj Auto. Jamnalal Bajaj created it in Rajasthan in the 1940s.
Plants are located at Chakan, Waluj, and Pantnagar. The R&D centre 'Ahead' is located at the company's oldest factory in Akurdi, Pune.
Bajaj Auto is the world's third-largest motorcycle manufacturer and is currently the second. It is the world's largest maker of three-wheelers. Bajaj Auto will surpass a market valuation of 1 lakh crore (US$13.6 billion) in December 2020, making it the top global two-wheeler firm.
Polycab
Polycab India Limited was founded as a private limited company under the name Polycab Wires Private Limited on January 10, 1996. The Business had become a considered public limited company on June 30, 2000, and the term "private" was removed from the Company's name as of that date.
Mphasis
Mphasis Limited is a Bangalore-based international IT services and consulting firm. Infrastructure technology and application outsourcing, as well as architecture consultation, application development and integration, and application administration, are all services provided by the organisation. It caters to the financial services, telecommunications, logistics, and technology sectors. In 2019, Fortune India 500 placed Mphasis 7 in India IT firms and 189 overall.
Indus Tower Limited
Indus Towers Limited is a privately held firm that provides telecom carriers and some other mobile service providers, such as internet service providers, with inactive basic infrastructure. Indus Towers Limited was founded in November 2006 as a partnership deal between Bharti Infratel and Vodafone Idea Limited to just provide neutral infrastructure and services to telephony network operators.
Oracle Financial Services
Oracle Financial Services Software Limited (OFSS) is Oracle Corporation's subsidiary. It is a modern banking services supplier for retail banking, financial services, and insurance. Accounting, business process management, human resources, and procurement capabilities are also available. And also, risk and compliance management and performance assessment apps.
According to the firm, it has over 900 clients in 145 nations. Oracle Financial Services Software Limited is placed No. 9 among India's IT firms, and No. 253 overall in the Fortune India 500 list in 2011.
Dixon Technologies
Dixon Technologies (India) Ltd, situated in Noida, India, is an Indian electronics manufacturing firm providing. It works as a contractor for Samsung, Xiaomi, Panasonic, and Philips, producing TV, washing machines, smartphones, LED bulbs, battens, downlighters, and CCTV security solutions. It operates ten production facilities in Noida, Dehradun, and Tirupati, and is also India's largest television, washing machine, and bulb assembly factory. Since its IPO in 2017, the firm has been listed on the Bombay Stock Exchange and National Stock Exchange.
Hindustan Aeronautics
Hindustan Aeronautics Limited (HAL) is a state-owned Indian aerospace and defence enterprise based in Bengaluru. HAL, which was founded on December 23, 1940, is one of the world's biggest and oldest defence and aerospace companies. HAL commenced aircraft manufacture for the Indian Air Force in 1942, with licenced production of the Harlow PC-5, Curtiss P-36 Hawk, and Vultee A-31 Vengeance. HAL now operates 11 dedicated R&D facilities and 21 manufacturing divisions across India, divided into four production units. HAL is governed by a Board of Directors chosen by the President of India through the Government of India's Ministry of Defence.
APL Apollo Tubes
APL Apollo Tubes Limited (APL Apollo) is one of India's top steel product producers. Over 1100 different MS Black pipes are available from APL Apollo's multi-product line. Tubes that have been galvanised and tubes that have been pre-galvanized Hollow Sections and ERW Steel Tubes for Structural Applications. It is one of the best stocks for long term investment.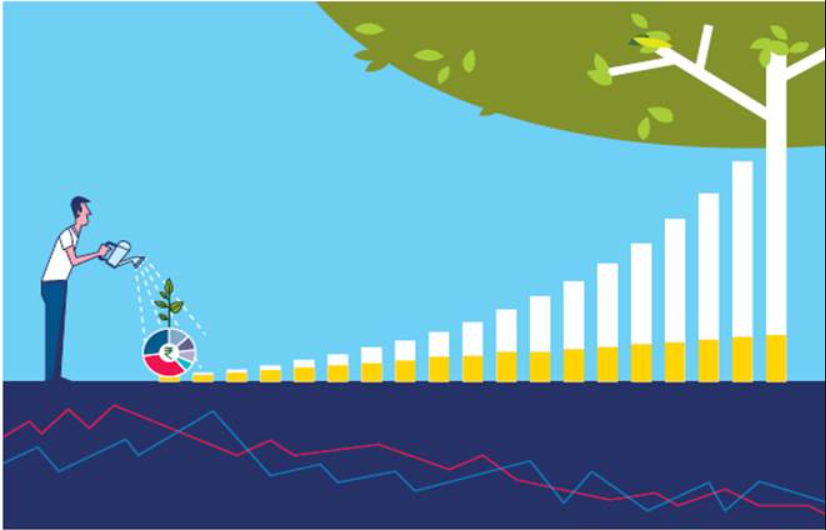 Conclusion
One of the most effective strategies to accumulate money over time is to invest in the stock market for the long term. Best stocks for long term investment have been a successful idea to gain more from your income. It works as a passive income for the people. However, learning to think long term and avoiding excessively monitoring the market's daily highs and lows has been the first step.