Introduction
Just imagine, you are excited and going to travel after so long. You have got everything right, your passport, visa, ticket, and luggage but when you reach your destination you witness that your passport is no longer with you or someone has stolen your bag. You cannot do anything because you are in a different country and you don't speak their language properly. That's when travel insurance plays a vital role.
You all will agree that the thought of traveling and exploring can fascinate you right then and there. It is the first thing that comes to your mind when you need a break or wants to refresh yourself because it gives you immense joy and options to explore a new world. But you cannot agree to this that there are no risks in traveling. There are many factors and emergencies which can affect your travel plans. It is vital to have a travel insurance policy in cases of ticket cancellation, or lost baggage, etc. Your travel insurance will cover every travel-related trouble. There are innumerable companies which are providing coverage for travel, for both domestic and international flights. Let us know more about the Best travel insurance companies in India.
Best Travel Insurance Companies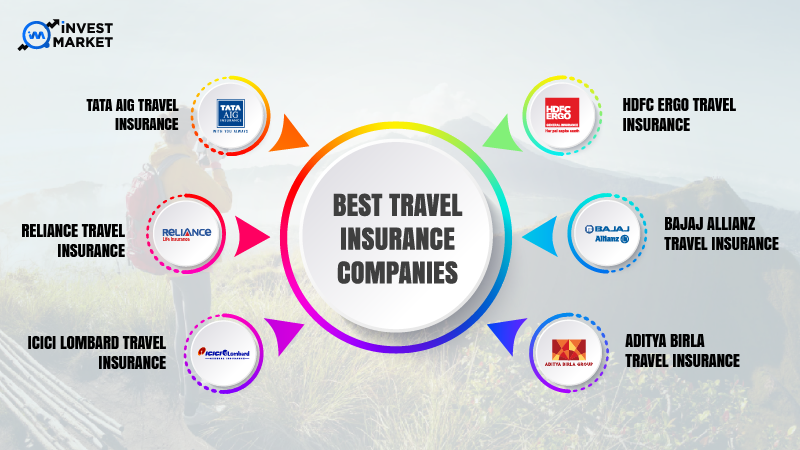 Tata Aig Travel Insurance
Tata Aig offers multiple plans and easy coverage for its travel insurance plans. It has single trip travel insurance, for those people who travel once in a while and multi-trip travel insurance for people who like to travel on a regular basis. Other than these two, there are 2 more plans, one for students and another one is for senior citizens. Tata Aig travel insurance is convenient because the plans are customizable. With the covid-19 coverage in these plans, travel insurance is becoming a must-have for frequent travelers.
Few Inclusions are-
Hospitalization expense while travelling
Lost or misplaced baggage
Lost passport
Delay or cancellation of flight
Covid-19 Coverage
---
Reliance Travel insurance
Reliance Travel Insurance is really good for international trips like if you are looking for travel insurance Canada, travel insurance Germany, USA travel insurance, travel insurance Ireland then you are at the right place. It provides coverage for trip delays and all other basic travel insurance inclusions. Though this is somewhat similar to other travel insurances still, all the companies vary according to the add-ons and other facilities. It is one of the best travel insurance companies in India and it offers Life Insurance, Indemnity Insurance and many more.
Few Inclusions are-
Sum for return ticket of the family visiting the insured, if he is hospitalized for more than 7 days​
Cost of getting a new passport, in case the old one get misplaced
Coverage in case of burglary in your home, when you are travelling abroad
Special distress allowance if the plane is hijacked for more than 12 hours
---
ICICI Lombard Travel Insurance
ICICI Lombard travel insurance provides assurance of quality health facilities, irrespective of the place you are staying at. This company provides multiple benefits for buying an insurance policy. It gives you the coverage of extended stay in a hotel in case of emergency. There are few other insurance companies like Southern Cross travel insurance that too provide easily claimable travel insurance services. Bharti AXA travel insurance has the same procedure as ICICI because they are now part of each other.
Few Inclusions are-
If you have medical emergency at your destination, you can get cashless treatment facility
Compensation for lost luggage
No prior medical test to access the insurance
Compensate for trip cancellation and interruption
---
HDFC Ergo Travel Insurance
HDFC ergo is one of the most popular insurance companies in India. This company has been serving for so long and the travel insurance is one of their services. They provide all the basic facilities as well as additional facilities to their clients. Travel insurance HDFC Ergo provides coverage for almost all those factors which are likely to spoil your trip. HDFC ergo has 4 insurance plans for individuals, families, frequent fliers, and students. It is a few of the best travel insurance companies for international trips as well.
Few Inclusions are-
Emergency medical expenses
Financial emergency assistance
Loss of baggage and personal documents
Accidental death
Flight delay
---
Bajaj Allianz Travel Insurance
Bajaj Allianz Travel insurance is designed to provide security against theft, sickness, and other unforeseen situations. The company serves both domestic and international travelers with a good number of schemes for individuals, families, business travelers, students, and senior citizens. Bajaj travel insurance portfolio also includes special plans for corporate travel, plan trips to different regions in Asia as well as Bharat Bhraman plans for travel within the country. Apart from this, Bajaj Allianz offers all other types of insurance like car insurance and many more.
Few Inclusions are-
Coverage for natural calamities or man-made disasters
Coverage for overseas medical emergencies
Coverage for missed flight or trip cancellation
Credit card theft
---
Aditya Birla Travel Insurance
Aditya Birla Group is yet another company that is providing the services of travel insurance to protect you from any happening on your trip. As it is discussed before, it provides coverage for basic travel insurance factors. It is one of the best travel insurance companies in India because Aditya Birla's group performs exceptionally well in what they do.
Few inclusions are-
Provides automatic policy extension
Coverage for the expenses of return of own country
Damages due to or related to hijacking
Cashless Medical expenses overseas
---
Types of travel insurance
There are uncountable types of travel insurance and we have tried to mention down few of the most common ones. You can compare the plans of all of these above-mentioned companies to choose what suits you the best. Let's know more about these plans-
Group travel insurance– This insurance is basically planned by tour organizers who are responsible to manage the plan and all the people of the group. It may vary according to the cover of each person. Group tours are basically planned for historical monuments or tourist spots.
Business travel insurance– As the name justifies, it is for the people who travel around due to business purposes. They can also opt for Multi-trip travel insurance, in which you can travel multiple times in a year.
Domestic travel insurance– It allows you to travel around the country and safeguard you within the borders of India.
Student travel insurance– It is especially designed to be student-friendly as it has features like sponsor protection, study interruption etc. Duration of this policy is usually 2 years, which can alter according to your needs. Every company provides their add-ons and few special facilities too.
Individual travel insurance– If you are travelling alone, then you needs to be extra vigilant toward your stuff and your health. In these cases, you should have individual travel insurance which will cover the cost of health emergencies and loss of luggage and passport.
Exclusions of Travel Insurance
There are many points that are not included in travel insurance and companies mention those exclusions beforehand but people do not pay attention to that. Here are a few of the most important exclusions of Travel insurance in India.
Travel insurance companies do not pay you for the pre-existing diseases. If you are suffering from a disease before buying the travel insurance, the company will not pay for its treatments.
You cannot get the coverage for regular dental check-up according to travel insurance policy. If the dental check-up has occurred due to an accident for in emergency situation, then the company may provide coverage.
If you seeking the treatment for mental or emotional illness, then the travel insurance company will not pay for that.
Travel insurances are meant for emergency medical treatments, not for pre–planned treatment. So, if you are travelling to get some treatment done, then you won't avail the coverage of insurance.
Treatment for pregnancy and childbirth, both are excluded from this policy even if you are traveling within the country. Though, you can get it added with certain add-on procedures.
If you are fond of doing any adventurous activity which involves risking your life, then the insurance company will not take responsibility of that. Exploring an accident prone area willingly is all your responsibility.
The travel insurance excludes coverage in cases of war happens or something like that. It provides coverage for a terrorist attack but not for war. You should check the documents before signing. There is a possibility that your insurance company might be providing that facility.
You should always keep in mind to avoid carrying so many luxurious or expensive items in your bags. The insurance company will provide coverage for baggage loss, but not for, what was inside it. If you are travelling with expensive products with you, then you may not get full coverage in case of lost luggage.
If you are cancelling your flight due to weather condition, then you are not eligible to get coverage, but if your flight get delay or cancel due to weather, then you are eligible for coverage. Other than this, if you cancel your flight for any reason that doesn't fall under your policy, then too, you won't get any claim.
There are many other points that the insurance company does not provide claims for (non-listed cases). Read all the points carefully, before signing to the insurance policy. You can get additional features on your insurance. If the inclusions and exclusions feel right, then you can get travel insurance for domestic or international trips.
List Your Company Here
Do you have any other travel insurance companies? Send us your pitch for its listing at @info@investmarket.in
We are all ready to analyze and introduce another amazing insurance company to our audience. Click on the button below to avail this feature.